Game Designer
This job is no longer accepting applications.
At Splash Damage, we're dedicated to crafting team-based multiplayer games that ignite friendships as much as they do healthy competition and teamwork.
Our teams celebrated the launch of Gears Tactics earlier this year, and we're currently developing Outcasters for Stadia along with several unannounced titles.
As an UnrealEngine focused studio, we're excited to be transitioning our teams to the latest in UE5 technology and we're looking for skilled and passionate developers to help us drive this.
We're advocates for work-life balance and offer a comprehensive benefits package focused on the well-being of our staff and their families.
We believe that teams create the best work when they have a range of perspectives and experiences to draw from. Therefore we're committed to increasing diversity across our studio, fostering an inclusive environment to ensure everyone's voices are heard.
Due to the on-going COVID-19 outbreak, we're all currently working from home. We're still looking to welcome new team members, who'll join us remotely until we return to the studio 
The Role
As Splash Damage's Game Designer you will be responsible for a number of major features, levels or areas of a game, driving end-to-end implementation across the team, as well as contributing to the definition of the expected quality of the game.
You will work to create a unified game experience and realise and communicate the game vision throughout the team, ensuring alignment across all disciplines; this is true for both the overall vision and the vision and design for individual features and game elements. You will work with the team to meet the prototyping goals as set out in the master Game Design Document (GDD).
You will mentor & coach Associate Designers and manage & direct other Designers if necessary. You will regularly be part of peer-reviews.
You will regularly communicate out progress against quality, scope and game vision alignment expectations. You will discuss and explain the rationale behind your decision making and listen, iterating on feedback from other disciplines or Designers. You will regularly present the areas of the game you are responsible for to the team. Where necessary you will speak to the media and prepare key product messaging for the media.
You will implement feature optimisations and tuning plans demonstrating a strong understanding of metrics and development restrictions; you will own the tuning for accountable features or levels. You will attend focus group sessions, generate feedback reports, deliver them to the product team and integrate relevant feedback into the product design.
You will verify task estimates provided by junior staff and in turn work with your Lead to give your own accurate estimates for work as well as logging work in management software. You will provide input to Production / Management on project schedules throughout development to prioritise tasks / workload for the developers responsible for their assigned feature-set, in alignment with the product vision. You will articulate the impact of changes to the game-design to the developers on your team.
Essential Skills and Experience
A passion for making and playing games
Industry experience and 1 shipped AAA current gen (PS4 / XBOX ONE) console or PC title that featured a multiplayer component, worked on from beginning to end
The ability to work independently without close supervision
Experience in creating first or third person shooters
Excellent verbal and written communication skills
Experience writing high quality and thorough design documentation
Experience of prototyping gameplay mechanics using UE4, Unity, or similar
Experience with design documentation, diagram and flow-chart creation
Experience with source-control applications (SVN, Perforce, AlienBrain, etc.)
The ability to work collaboratively with other disciplines
Preferred Skills and Experience
Presentation skills and experience with PowerPoint
UE4 Blueprints / UE3 UnrealScript
Traditional art skills
Experience with Adobe Photoshop or similar
Experience with scripting or programming language
Experience with wiki-based design documentation
Undergraduate degree in Video Game Design, Computer Science, Marketing, Entertainment or a form of technical training
Splash Damage is an equal opportunity employer. We believe our teams create better work when they have a range of perspectives to draw from, and we are committed to creating an inclusive working environment that celebrates diversity.
Apply
Your application has been successfully submitted.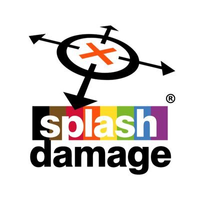 Bringing together talented people in a friendly, creative and collaborative environment.