Senior Concept Artist
We believe that games play better with friends. For more than 20 years, we've been creating team-based multiplayer experiences that have entertained tens of millions of players all over the world and forged countless new friendships along the way.
Our studio culture is rooted in our open, friendly, and collaborative environment. Our games are made by people from all over the world, from our entry-level Fresh Talent hires to industry veterans, and we believe that fostering that diverse culture is the best way to build both our games and our studio. We have won numerous awards, including a 'World-Class' accreditation by Best Companies and being named one of the UK's 100 Best Large Companies to work for.
Our offices are based in Bromley, UK, and our teams have access to working patterns that work for them.
Benefits
We offer a comprehensive benefits package for you and your family, including:
On-site and Hybrid working patterns help us spend the right amount of time together
Substantial performance-related pay system on top of your basic compensation, along with enhanced pension contributions and our life assurance scheme
Bespoke VISA and relocation packages for you and your family, with support from our team throughout the whole process
25 days of holiday and 8 Bank Holidays a year, plus our annual studio closure between Christmas and New Year's
Private Medical and Dental Cover for you and your family, along with a 24/7 digital GP service
Extensive Mental Health support, with Line Manager Mental Health training, a group of Mental Health First-Aiders, and on-site or remote counselling
Our bespoke Learning and Development course framework to help you grow as an employee, manager, and leader
Industry-leading fully paid 30 weeks maternity leave & 10 weeks paternity leave
The Role
With our fantastic AAA Projects forever pushing our studio's growth, Splash Damage is seeking a new Senior Concept Artist to come and join the SD Family.
Working closely alongside both our Art Directors and Lead Artists, you will bring creative passion, vision, and inspiration to help drive the quality of our current and upcoming titles.
Responsibilities
Collaborate closely with the project's developers, create inspiring designs ranging from realistic to sci-fi. From initial speed sketches, through to product-defining visuals – developing imaginative visual solutions for the various aesthetic, technical, design & narrative considerations in a timely fashion.
Splash Damage as studio is hugely invested in the ongoing development of our staff; as part of these initiatives, you will help lead, mentor & develop the skills of junior members of the concept team.
Essential Skills and Experience
Having shipped multiple titles, you are well embedded within the video games industry, with a thorough understanding of the games development pipeline.
You have experience in design & illustration and a strong understanding of Art fundamentals such as colour theory, composition, shape language, lighting, form + function, perspective, and a burning passion for excellence & the video games medium!
You are fluent in Photoshop & possess a strong capacity to learn new tools.
Preferred Skills and Experience
Knowledge of industrial, sci-fi and mechanical design principles and their application to fictional characters, vehicles, machines, weapons etc
Good understanding of how to construct credible and realistic mechanical designs
The ability to match and define a variety of art styles with minimal supervision from management staff
Strong anatomical knowledge Character design; unique and interesting characters in a range of styles
Architectural knowledge – strong understanding of the layout, proportions & construction of a range of building types, both realistic and imaginary.
Experienced in 3D packages
Strong traditional artistic skills
Splash Damage is an equal opportunity employer. We believe our teams create better work when they have a range of perspectives to draw from, and we are committed to creating an inclusive working environment that celebrates diversity.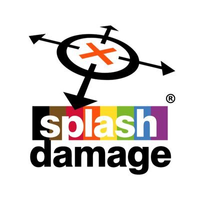 Bringing together talented people in a friendly, creative and collaborative environment.